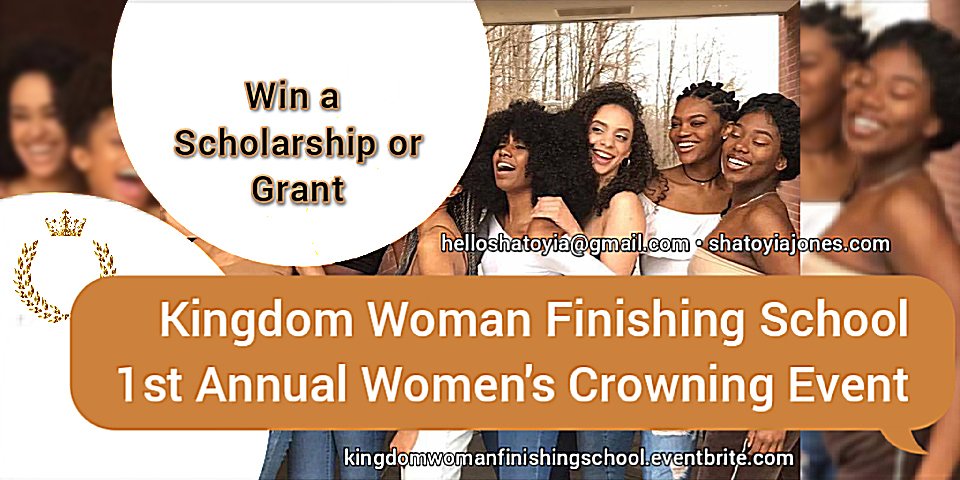 Confidence. Elegance. Grace. Poise. Godly Femininity.
Kingdom Woman Finishing School Annual Scholarship and Grant (Virtual) Crowning Event
"It's You Against You."
– Cacique Shatoyia Jones
December 30, 2023 – 10a EST – 1p EST
The Kingdom Woman Finishing School (KWFS) annual scholarship and grant virtual crowning event is a chance for women all over the world to present their ideas, business or project for the positive advancement of society and to the empowerment of women. The crowned woman will be a spiritual and physical embodiment of excellent that a "KWFS Heiress" possesses, the epitome of a Kingdom Woman, and she will serve as an ambassador for Kingdom Woman Finishing School and assist in crowning the following year's ambassador.
---
ELIGIBILITY TO ENTER
Woman
Any age and stage of life
Must have be willing to present an idea, business, educational program or social impact initiative that will positively contribute to the world and be used to empower women
Must be able to articulate how the funding will be used
---
AREAS OF COMPETITION*
Personal Interview (Communications & Public Speaking)
Media Audit (Communications & Public Speaking, Brand/Influencer/Public Figure)
Feminine Refinement & Self-Mastery (Image, Grace & Poise, Character)
Vision Development & Legacy
Women's Issues and World Affairs
*Training to increase your chances of winning is offered, but not required. For training, select the candidate + training ticket option.
---
HEIRESS OF THE YEAR AWARD
If crowned, the Kingdom Woman of the Year will receive…
$250 – $500 grant for education, business, grant, trade/vocation or social impact initiative
highest title of ልዕልት Kingdom Woman of the Year (if unmarried), which translates to (Princess of the Year) or ንግስት Kingdom Woman of the Year (if married)
Certificate, Crown & Sash
Free entry and mentorship into 2024 Kingdom Woman Finishing School International Crowning Event in Springfield, MA
Newspaper front page spread
Limited Edition KWFS gold necklace and earring set
An interview on KWTV and networking platforms
1-year paid internship and mentorship at KWFS with Cacique Shatoyia Jones
Homebuying/Homesaving program access
Additional prizes added annually.
To sponsor this event or promote with us, e-mail helloshatoyia@gmail.com
---
ADDITIONAL AWARDS – AMBASSADORS
For women of impeccable leadership who presented in the annual crowning event and will support the Kingdom Woman of the Year
---
Even if you are not crowned, there are other additional awards you will be considered for:
KWFS Woyzerit Heiress Society Council Award (Ambassador of the Year): the woman who is a VIP KWFS Kingdom Woman Heiress Society Member (at least 6 months) and has represented Kingdom Woman Finishing School during the year with the most virtual women's circles sign ups using her active heiress code (Includes: $250 grant or scholarship)
KWFS Woyzero Hall of Service (Legacy Award): a crowned KWFS Heiress of the Year or Ambassador of the Year who has consistently upheld a standard of excellence and service to the royal priesthood throughout her life
KWFS Woyzerit People's Choice Award  I (Ambassador of the Year): the woman who competed in the crowning event and received the most votes by the public during the open voting period (Includes grant for $1  per 2 votes up to $500)
---
Questions, comments or concerns? E-mail helloshatoyia@gmail.com
Custom Field : usp_custom_field : Use code WHOWKWFS2023 for 20% off! Deadline to apply: December 22, 2023